Featured Article - 25 October 2017
The First Philippines National Rabies Summit
The first National Rabies Summit in Manila, Philippines, was on 28th September 2017 and was held to mark global World Rabies Day.
The day was focused on the specific goal of reaching zero human deaths from rabies by 2020, a goal that has been created in the Philippines to work alongside the global goal of zero human deaths by 2030. This event was an opportunity to gather all stakeholders to collaborate and share strategies to work towards the goal of a rabies-free Philippines.
Over 400 representatives from the Department of Health & Department of Agriculture regional offices, Department of Education, non-government organizations, private sector and Local Government Unit officials attended the day.
The Global Alliance for Rabies Control presented to the meeting about what we'd been doing in the country, including activities such as the End Rabies Now campaign, the GARC Education Platform, education programmes in schools and local communities and a collaboration with the Knowledge Channel to produce a series of videos on rabies education.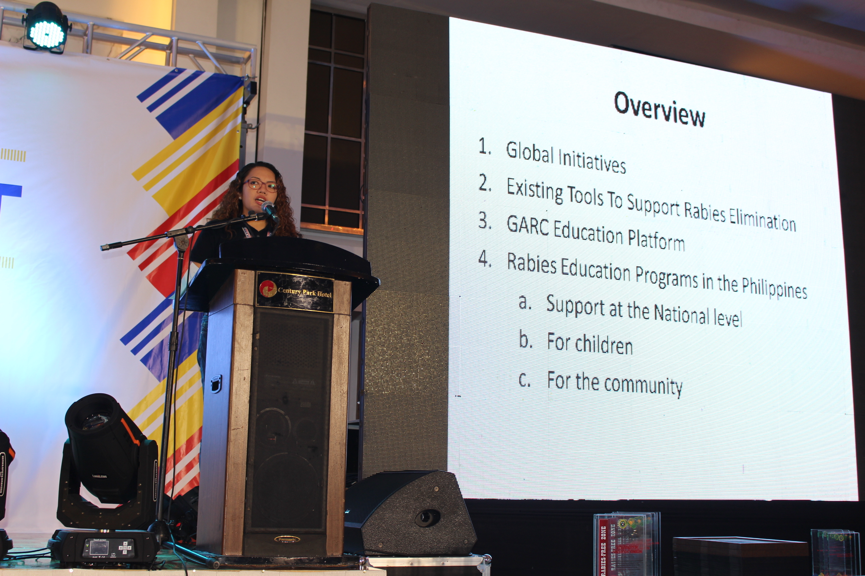 Ilocos Norte, an area that GARC has worked in for 4 years, from April 2012 to December 2016 through the Communities Against Rabies Exposure (CARE) Project, was awarded the top performing Local Government Unit in line with the following criteria:
No human rabies status in their area for 3 years (2014-2016).
No animal rabies status in their area for 3 years (2014-2016).
70% dog vaccination coverage (annual for the period of 2014-2016)
Pre-exposure Prophylaxis cover in the areas also needs to have reached 90-95% in January to December 2012, 2013 and 2014
There were another 8 areas that were awarded a rabies-free status including President Carlos P. Garcia, an island municipality in the province of Bohol that was the pilot area for the CARE Project back in 2007.
At the end of the conference a pledge was signed to show commitment to the goal of ending human deaths from canine rabies by 2020.