Featured Article - 1 April 2020
The Rotary Club of Lipa West tackles Responsible Pet Ownership through education
The Rotary Club of Lipa West would like to enable the children, teachers and parents with knowledge about rabies, its prevention, and the transmission of this deadly disease in companion animals and in humans. The more knowledge these children have, the more they will know how to be responsible for their pets in their household and communities. This will positively reduce the possibility of rabies transmission among animals, thus protecting the people of Lipa City from a truly fatal disease.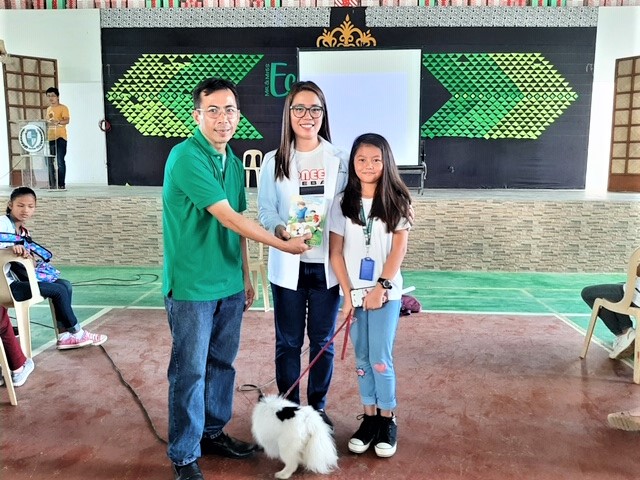 The project is in partnership with the Global Alliance for Rabies Control (GARC), giving the Rotary Club of Lipa West special permission, through Dr. Sarah I. Jayme, to reproduce their Responsible Pet Ownership booklet so we can distribute to more public schools around the city with the Lipa City Veterinary Office. The Club was able to fund for 350 more copies of "Si Bino, si Buboy, at si Bantay, Magkaibigang Tunay" booklets. The Club also provided school supplies with simultaneous lectures on Responsible Pet Ownership. Five (5) public schools were visited during the 2019 project: Sen. Claro M. Recto Memorial Integrated School (May 22), Rizal Elementary School (May 24), Bulacnin Integrated National High School (Sept. 28), Ma. Kalaw Katigbak Memorial Elementary School (Sept. 30 and Oct. 11), and Inosluban – Marawoy Elementary School (Nov. 9).
We would like to thank GARC for their support in this collaboration. This collaborative effort between the Rotary Club of Lipa West and GARC is a promising project that will help our community to be one step closer in eliminating rabies in the world.
Article contributed by: CCP DIANA CLAUDINE C. DE LEON, DVM (President, RY 2019-2020)