Featured Article - 13 June 2018
Want a Friend? Be a Friend! in action in South Africa
Funda Nenja, which translates to "learning with the dog", is a non-profit organisation based in Mpophomeni Township just outside Howick, Kwa-Zulu Natal (KZN) in South Africa. Our main aim is to teach the local children how to humanely handle, care for and train their dogs.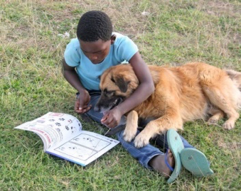 Amahle and Lion – "Ooooh that looks interesting"
We run training programmes every Friday afternoon with approximately 80 children attending. We only use positive reinforcement training methods and teach the children to use kind and gentle methods to handle their dogs.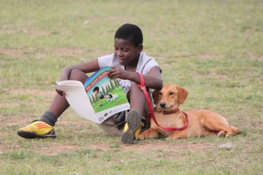 Vuyani and Snoopy – "Yeah yeah. I know all that stuff already"
Funda Nenja has an animal welfare officer who treats all the dogs for ticks, fleas, wounds, ear infections, eye infections, etc, vaccinates them against rabies and holds regular rabies clinics within the township for all dogs and cats in the community. For all major medical issues and sterilisations, as well as further rabies vaccinations, the uMngeni SPCA are notified and the dogs are then collected and treated by them.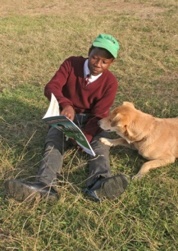 Sibusiso and Boxer – "that's a really cute looking dog"
We were recently lucky enough to receive some wonderful educational booklets, Want a Friend? Be a Friend! in isiZulu, from Daniel and Kevin of the KZN Rabies Project, on basic animal welfare, dog body language and rabies awareness, which were beautifully illustrated. There were also sections for the children to complete, such as word searches and pictures to colour in. All the children received a copy and we are running a competition for the best completed booklet (with or without the help of their dogs). The winners will be announced on 8 June.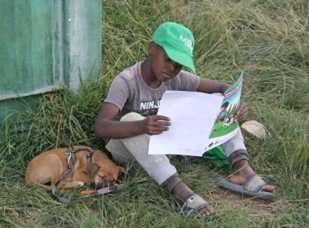 Bongani and Puppy – "wake me when you're done"
This article was written by Lisa Button, the Assistant dog school manager and fund raising/marketing assistant at Funda Nenja: www.fundanenja.co.za
If you'd like to print your own Want a Friend? Be a Friend! booklets to help educate children in your local community then you can download them here. If we do not have a translation in your language then please get in touch as we can help to create one. Email us at [email protected] for help with this.