Featured Article - 6 August 2019
How students are creating a rabies-free Tunisia
Tunisia Against Rabies were the awardee in the Global category (student groups) for the 2018 World Rabies Day Awards. View their profile and statement on receiving the award here.
In Tunisia, canine rabies causes hundreds of animal cases and 2 to 3 human deaths. It is also causing heavy economic losses due to the high cost of post exposure prophylaxis, the cost of mass dog vaccinations and losses of livestock, especially cattle. Since the 80s, rabies has been subject to a national interdepartmental control program based on mass dog vaccination, monitoring and management of rabies outbreaks, monitoring of biting animals, post exposure prophylaxis and the control of stray dogs. After the establishment of the national program against rabies in 1982, human cases have decreased significantly; in fact in 1985, 2001 and 2009 no human cases were recorded. Cases in animals have also significantly decreased with an annual average of 150 cases per year. In 2018, 380 cases of animal rabies were registered, 62 % in dogs, followed by cattle, which represent 19 % of cases. In 2018, three human deaths were recorded, all through non use of post-exposure treatment.
Faced with an alarming situation in 2014, several actions have been implemented, mainly in communication and mass dog vaccination. It was during this period that the General Directorate of Veterinary Services called for action, and students and interns in veterinary medicine responded. A core group of motivated volunteers committed to the fight against rabies in Tunisia was created under the coordination of the General Directorate of Veterinary Services, in collaboration with all stakeholders. It is the "Tunisia Against Rabies Group", a group of volunteer students and interns of veterinary medicine who have mobilized in the fight against rabies, focusing on awareness, vaccination and outbreak responses.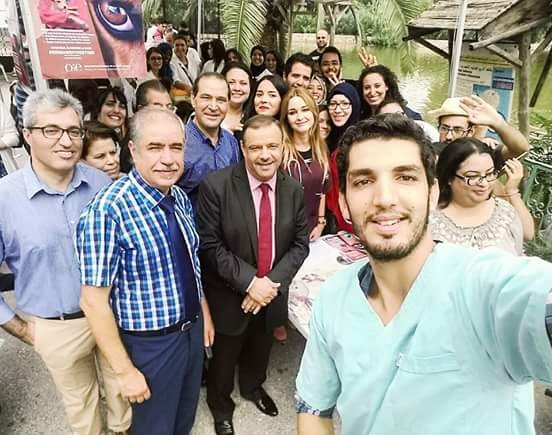 They have run awareness and vaccination programs on World Rabies Day since 2014, and participated in outbreak response activities, mass vaccination and awareness campaigns, and stray dog sterilization at various times of the year. Their awareness activities include TV and radio programs, contests and presentations, and they have reached thousands in the community with messages about rabies prevention. Now this group has expanded, there are veterinarians from the decentralized veterinary services, private veterinarians, official veterinarians, doctors, immunization technicians, citizens… and this group participates in all activities concerning rabies in Tunisia.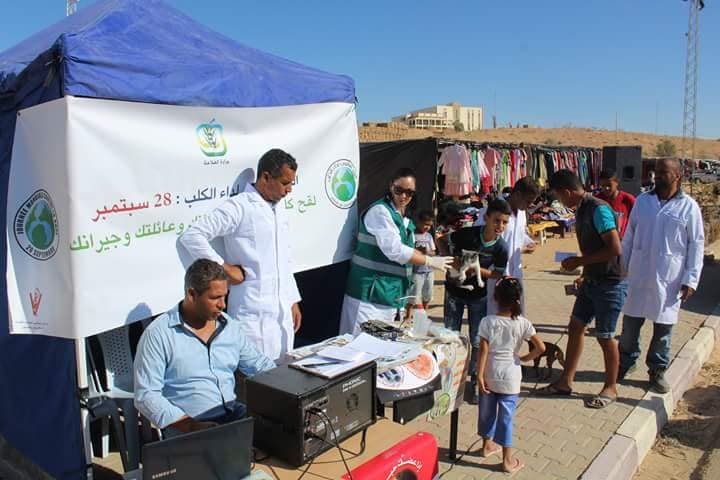 The celebration of World Rabies Day has become a tradition in Tunisia. During this time, all stakeholders fighting against rabies meet as a reminder that the disease is still present and a threat to Tunisian life. September 28th 2018 saw a record number of volunteers who wanted to participate in the battle against rabies, as well as record citizen involvement and active participation in various activities. The theme was "Rabies: Share the message. Save a life." and to mark World Rabies Day, Tunisian veterinary services with Tunisia Against Rabies scheduled awareness days and health education across the Tunisian territory, even reaching the Algerian and Libyan borders to "spread the message even further and save more lives!" All the teams were mobilized to celebrate the World Rabies Day, to speak about rabies and present the tools available to combat it. Tunisia Against Rabies has received training on rabies, its prevention and control methods, as well as the main messages to be passed on to citizens and how to do so.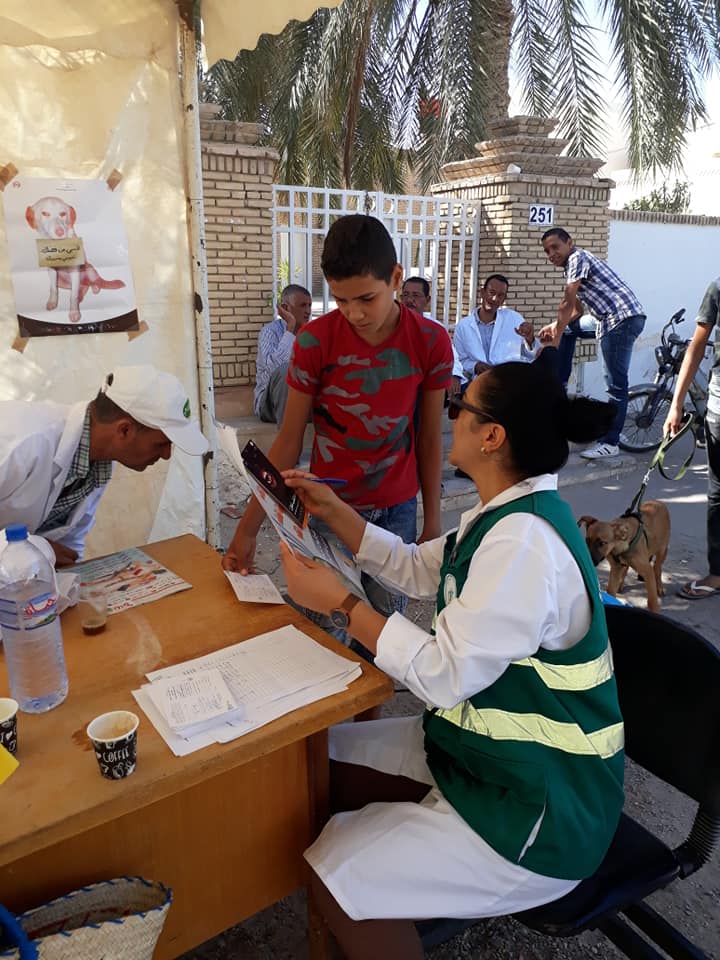 The awareness days were supported by high level authorities and were inaugurated by the Minister of Agriculture, Water Resources and Fisheries, the Governor of Tunis, the Mayor of Tunis, delegates, and representatives of international organizations. A total of 16,032 people were reached, mainly school children and educational staff. Indeed, 129 schools were visited by veterinarians in different regions of the republic from north to south through the center. Schools in border areas with Libya and Algeria have also benefited from this action. Although the action for this year was mainly based on awareness, veterinary services provided 105 points of vaccination for passers-by who wanted to vaccinate their domestic companions and were still unaware of fixed centers of free rabies vaccination. 5,875 dogs and cats received their rabies vaccination during the two days. These events received extensive media coverage: TV programs, Radio Programs, Electronic press, Social networks.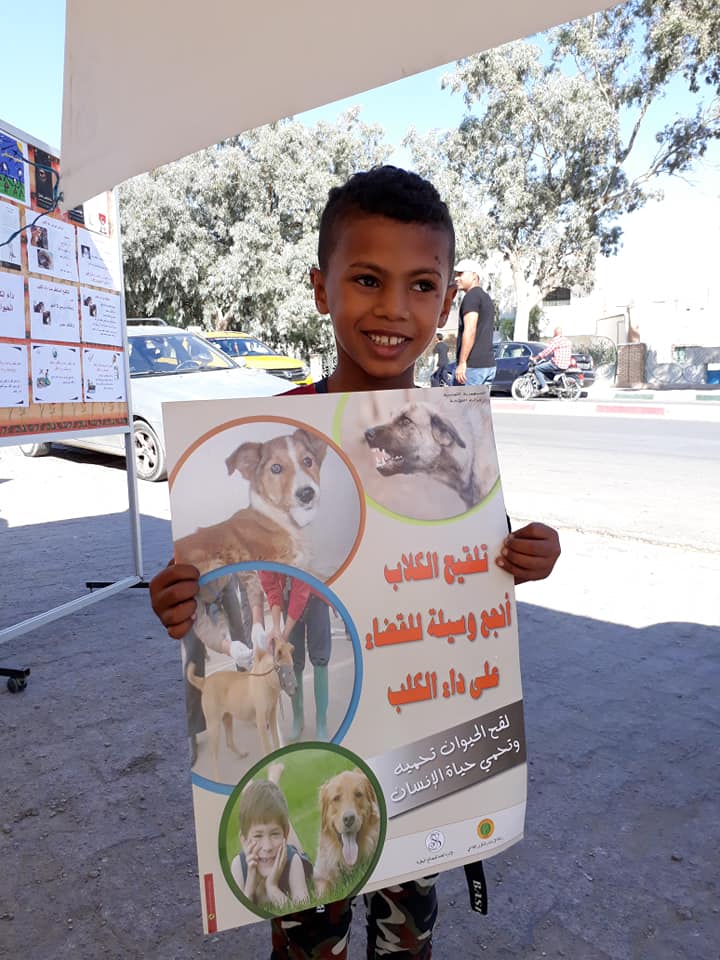 The efforts to prevent rabies been rewarded with a 2018 "World Rabies Day Award" for Tunisia Against Rabies. In 2019, Tunisia reaffirms its commitment to make the elimination of rabies its priority and is determined to continue the path to zero cases of human rabies by 2030. This goal requires the availability of sufficient human and financial resources and a national multi-sector collaboration, also the technical and financial support of international organizations involved in the global fight against rabies strategy.
Article contributed by Dr Kaouther Oukaili, Coordinator of the National Rabies Control Program at the General Directorate of Veterinary Services, Ministry of Agriculture Water Resources and Fisheries.
The World Rabies Day Awards are brought to you by MSD Animal Health and the Global Alliance for Rabies Control. The Awards recognise community rabies champions from across the world. Find out more about the Awards and the 2018 Awardees.