Featured Article - 13 March 2018
New tool to help you plan mass dog vaccination campaigns
In 2016, the World Health Organization (WHO), the World Organization for Animal Health (OIE), the Food and Agriculture Organization (FAO), and the Global Alliance for Rabies Control (GARC) released a framework to achieve the joint goal of eliminating dog-mediated human rabies by 2030.
Reaching this goal will need people from different sectors to work together at the international and national levels to plan and provide resources. Also, critically, coordinated action is needed at the community level to ensure that dogs are vaccinated and people are educated to prevent deaths due to rabies.
A number of tools are being created to support countries towards rabies elimination. The US Centers for Disease Control and Prevention (CDC), has developed the Global Dog Rabies Elimination Pathway (GDREP) framework and tool to enable governments and organisations to determine the costs and resources needed for mass dog vaccination.
You can input different national and local data, such as the human population, current dog vaccination coverage, available vaccinators, etc, and automatically view the estimated time and costs needed to achieve elimination. By changing the parameters, you can see how that changes the results. You can therefore use this tool to create a plan and budget for a mass dog vaccination campaign.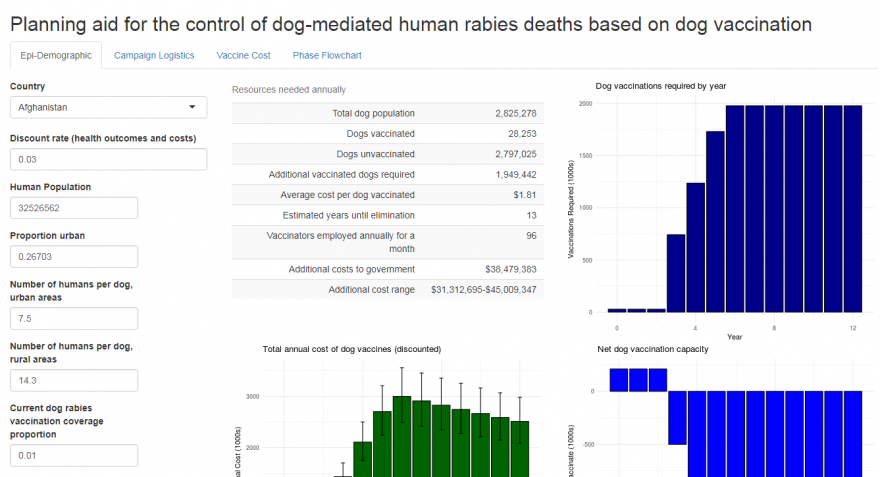 The Global Alliance for Rabies Control have been working with the CDC to develop an online version of the GDREP tool which can be accessed here. Read more about the background to the tool here.