Featured Article - 20 February 2023
Successfully celebrating World Rabies Day 2022 in Tanzania
World Rabies Day was well celebrated in Tanzania, on 28 September 2022, I had the opportunity to travel to Sikonge District, in the western part of Tanzania. Western Tanzania is our main target area to scale up dog vaccinations as part of Tanzania's National Rabies Control and Elimination Strategy (NARCES). What I saw there deeply touched me, as I saw dog owners who were willing to wait for hours, some more than 3 hours, for vaccinators to arrive, just to ensure that their dogs were protected against rabies.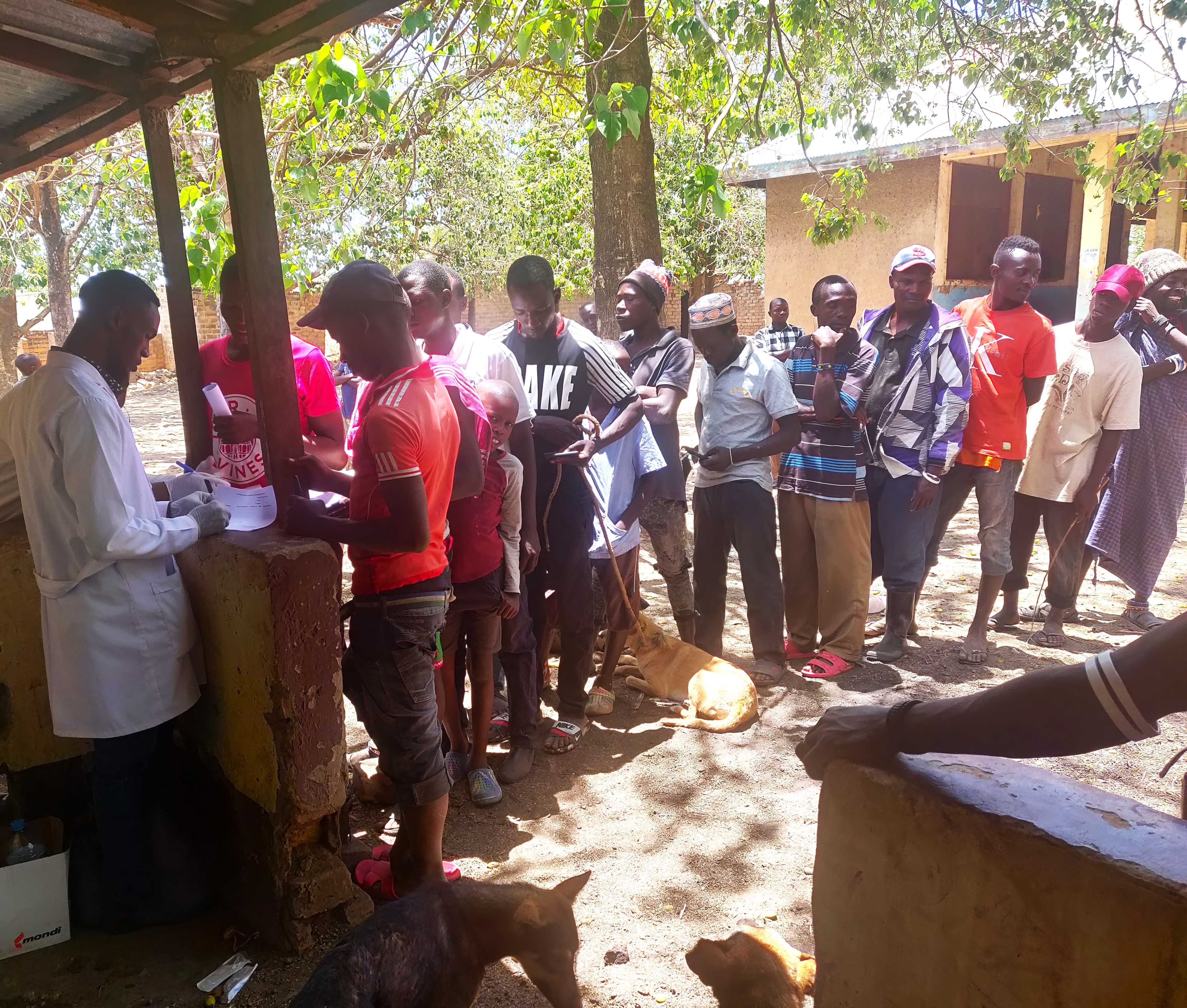 Their willingness to vaccinate their dogs is a testament to the increasing awareness of the importance of rabies prevention in Tanzania. When I asked them why they are vaccinating their dogs, they said: "We are protecting our communities from the spread of this deadly disease."
Despite this dedication, it was clear that there are still many challenges to be overcome. During a conversation with the Assistant Director of Veterinary Services, Dr Aneth Kitambi, she highlighted the need for more support from rabies stakeholders to help with donation of dog vaccines and fuels for the distribution of dog vaccines to reach all vaccination points, especially hard-to-reach areas.
Dr Kitambi said, during the week of World Rabies Day, commencing from 26th September 2022, a total of 17 radio programs, 11 television programs, 12 newspapers and 67 schools were used as platforms to disseminate information about rabies. The efforts for raising rabies awareness reached 55,157 students and 489 primary and secondary school teachers, through talk shows and by distributing 1,950 leaflets to the public. In the same week about 58,421 dogs and 1,579 cats were vaccinated against rabies – an incredible feat!
It is encouraging to see Tanzania's commitment to tackling rabies, and I was impressed by the concerted effort being made to raise awareness and educate people about the importance of rabies control and prevention.
World Rabies Day is an important event to raise awareness about the impact of rabies, a viral disease that is 100% preventable yet remains a public health threat in Asia and Africa. It is an important event to highlight the need for continued investment and sustained political commitment for rabies prevention and control. Rabies is primarily spread through the bite or scratch of an infected animal, typically dogs, and it is almost always fatal once symptoms develop. The theme for World Rabies Day 2022 was "Rabies: One Health, Zero Deaths" This theme highlighted the importance of collaboration between different sectors and stakeholders in order to effectively control and eventually eliminate rabies. It also emphasized the importance of vaccinating animals as a key tool in preventing the spread of the disease and protecting both human and animal health.
As I reflected on my experiences during World Rabies Day in 2022, I was reminded that the fight against rabies is on-going, and it requires partnership and collaboration between different stakeholders. I hope that in the coming years, we will see more events registered for World Rabies Day from Tanzania, see more dogs vaccinated, and more people educated about the dangers of rabies. By working together, we can make a real difference in the fight against this deadly disease and achieve a rabies-free Tanzania.
Article contributed by: Dr Maganga Sambo (Ifakara Health Institute, Ifakara, Tanzania) and Dr Annet Kitambi (Ministry of Livestock and Fisheries, Dodoma Tanzania).