Featured Article - 9 July 2018
World Rabies Day 2018 - The countdown begins
28th September 2018 will mark the twelfth World Rabies Day since we started bringing together the global community to fight against rabies.
This year the theme for the day is 'Rabies: Share the message. Save a life'. This highlights the importance of education and awareness to prevent rabies. It can be used at many levels from the policy-level message to governments to commit to the 2030 deadline, to community-level messages about vaccinating dogs and treating bite wounds, and dog bite prevention education for school children.

Holding local or national events is a great way to share the message of rabies prevention, whatever the size of the audience. Every time someone is educated about rabies there is the possibility of saving a life.
We have created a global hub to collate the events happening for World Rabies Day around the world and by registering your event on the hub you will be connecting with the wider rabies prevention community and giving us the chance to help promote your event. To register an event you simply need to create an account on our website and then add your event. You can find instructions on how to do that here (link to registration process document) and register your event here. By registering an event you will get exclusive access to modifiable posters to help you raise awareness about rabies prevention.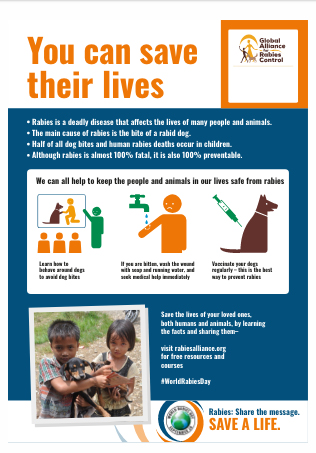 If you'd like some help to put together and plan your event you can download our free Event Toolkit that contains ideas on what to do for an event, how to promote it, how to communicate with different audiences and much more. You can download that here.
We have a number of other free resources to download including 2018 banners and logos, radio scripts for public broadcast containing common questions and answers about rabies and community outreach resources designed to help you to educate your community about rabies awareness. The community outreach resources contain documents such as comics, worksheets and activity books for children as well as leaflets and posters.
Last but not least we have the 3rd annual World Rabies Day Awards in conjunction with MSD Animal Health. The awards aim to highlight the work done by dedicated individuals and organisations to end rabies in their communities. The Awards are your opportunity to raise global awareness of rabies champions in your communities, which could lead to international and national support for their work.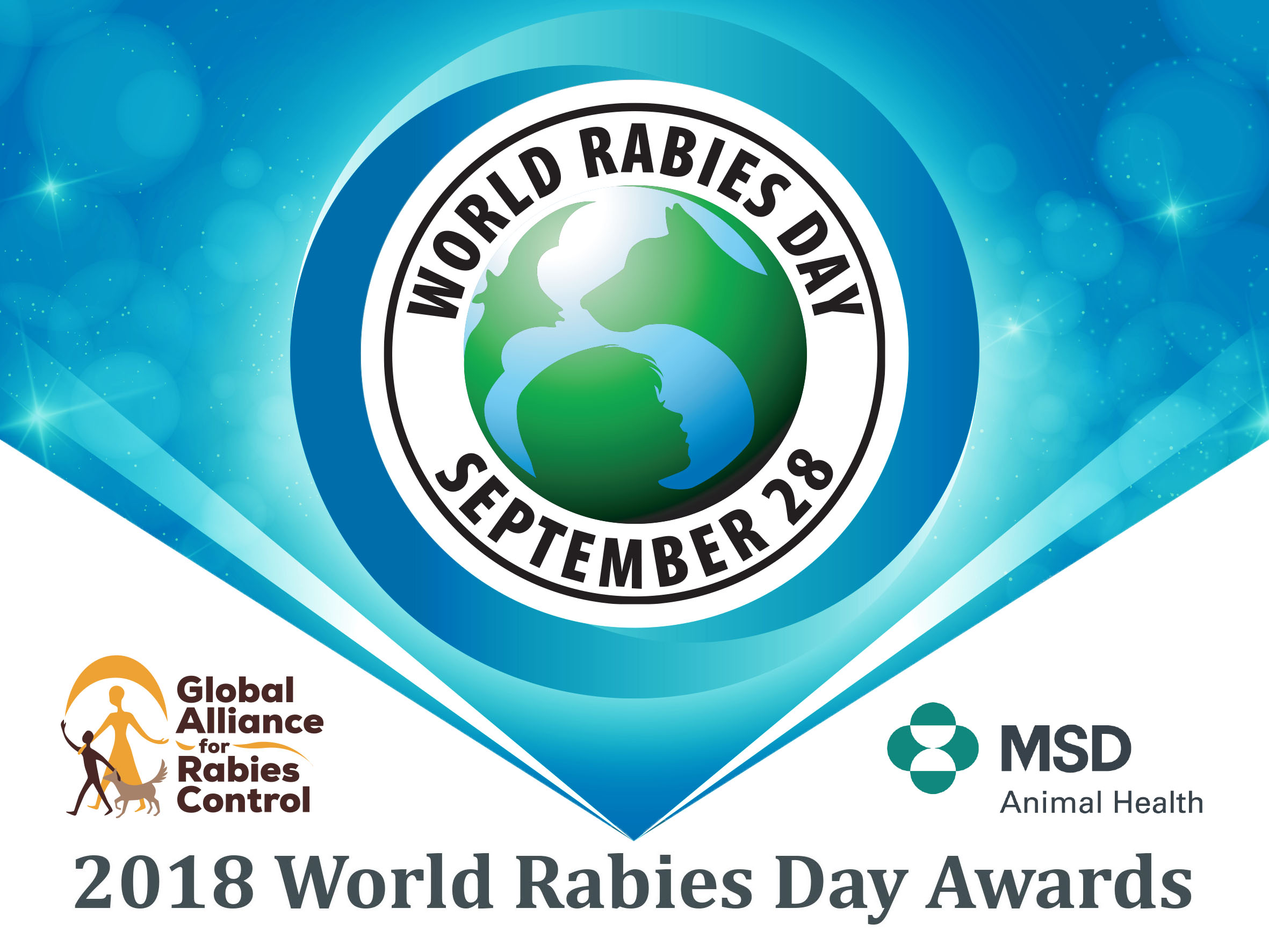 Please submit nominations for yourself or your own organisation, or another individual or organisation here. You can view the 2017 shortlist and Award recipients here.
We're looking forward to making World Rabies Day 2018 another resounding success with your support.